⬅ Return to collection
Soul / Funk : Mid Century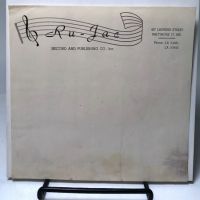 Rare and Original Ru-Jac Records Letterhead Page Unused Circa 1964 Baltimore Soul and R&B Record Label
Ru Jac Records Letterhead Page Circa 1964
Ru Jac Records was one of the great and until a few years ago, a label that most in the mainstream forgot about. Only through record collectors and soul enthusiasts, then later with the rise of record collecting again, Ru Jar has gotten their resurgence and respect. This respect also was bestowed to Baltimore, the forgotten city that through the Jazz era and up into the the late 60's had hosted and produced some amazing artist. You want examples? Well, in the Jazz age, Cab Calloway was from here, Billie Holiday, Chick Webb and then we get into the R&B scene you have The Orioles, The Cardinals and many one hit vocal groups. It is when you get the Soul groups Baltimore hit a stride not only as place to go while on tour but for the bands, like Winfield Parker, The Dynamic Corvettes, Joe Quatermen and again bands that had one or two regional hits.

Some of you who have been dealing and following me in my 20 years, have seen the items I have had the pleasure in dealing with and some may remember I had the great pleasure of handling Ru Jac items and many went to help the comps that came out.
So recently found in my flat file is the last Ru Jar item I have, an original letterhead of Ru Jac Records owned and operated by Rufus Mitchell and was active from 1963-1980.
The letterhead is early, the logo and the address, no zip code and of course the phone number of LA 3-22451, the time before area codes.

Size: 8 1/2 x 8 1/4 inches
Condition: Very Fine and un-used but some soiling from years stored and then stored again. You can see some soiling on the right lower part of the page. Please see the photos for more details
If you have any question or if you need additional images, please feel free to email me.
NOTE:
The shipping price is for US buyers only. If you are an overseas buyer, please contact me before purchase with your shipping address to get a quote.
Detail photos Click to enlarge