⬅ Return to collection
[uncategorized]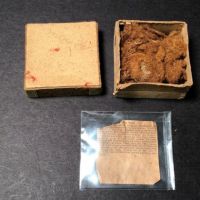 Rare Collection of Pele's Hair with Note Circa 1910 Volcanic Lava Cooled to Fine Fibers
Next up on the Natural History section is something I was unfamiliar with, Pele's Hair. The estate had this and other fossils and antique shell collection. This piece comes from the same collection as the Sea Herbarium I posted on my site.

The collection seemed to be collected around 1900-1915, pieces range from west coast to east coast. The posting on the Fossil of Coal Fern comes from the same collection.
When I found this small old box I was intrigued. Luckily the box has an old paper insert telling what the little box holds. The bottom has writing but I am unable to see what it says. I have included pics here.
So to open up the little box and find out this is Pele's Hair and that it is from lava I was drawn to it, needless to say I needed to know more.
Pele's Hair is a "volcanic glass formation produced from cooled lava stretched into thin strands, usually from lava fountains, lava cascades, or vigorous lava flows. It is named after Pele, the Hawaiian goddess of volcanoes"
The box is approx 2 3/4 x 2 3/4
The condition of the specimen is fine with obvious aging to the box and some debris, the over all piece is very fine. Please see the images for more details.
If you have any questions or if you need more images please feel free to contact me.
NOTE:
The price listed is for US. If you are an overseas buyer please email me your shipping address before purchase to get a shipping quote.
Detail photos Click to enlarge