⬅ Return to collection
Mid-century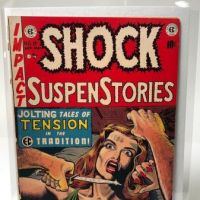 Rare Cover Precode Horror Comic Shock SuspenStories No 8 April 1953 Published by EC Comics Cover by Feldstein
**Sames Estate as the other Pre Code Comics listed**
Title: Shock SuspenStories No. 8
Date: April 1953
Published by EC Comics
"Cover art by Albert B. Feldstein. Piecemeal, script by Albert B. Feldstein, art by Jack Kamen; A woman plots to give her naturalist husband an overdose of sleeping pills so that she can be with his younger brother. The Assault!, script by Albert B. Feldstein, art by Wally Wood; Lucy, who was spending hours away from home on a regular basis, comes home one night and claims that old Hodges kidnapped and raped her, when, in fact, she had been with her lover. Suicide text story by Albert B. Feldstein. The Arrival, script by Al Feldstein, art by Al Williamson, Frank Frazetta (some panels on pages 4-6), and Roy Krenkel (alien architecture), inks by Al Williamson (signed), Frank Frazetta (some panels on pages 4-6), and Roy Krenkel (alien architecture); Ninety-five thousand years after man destroys himself with nuclear weapons, the evolved rats develop space travel and meet their Martian neighbors. Seep No More!, script by Albert B. Feldstein, art by George Evans; Every morning, after a man stabs a woman to death and stashes her body in the attic, he sees a huge bloodstain spreading across his ceiling; He tries to cover it up with paint, but every morning it's there. 36 pgs."
Condition: Cover is fine with pulling at the staples, top staple cover is disconnected and bottom staple is attached but has a smalL chipping. Spine edge has light chipping and stamped date on cover, Feb 6. Colors are great with no fading and only slight and very faint edge bumps from storage. Note, Shock has traced lines in the cover. Back has pencil mark on top, a square is drawn. Light soiling to right side from storage. Binding is tight with very good color and very light signs of use, pages are crips and very clean.
If you have any questions or need additional information, please feel free to contact me.
Note:
Over seas buyers please email me for shipping quote, please provide me with a shipping address and postal code.
Detail photos Click to enlarge