⬅ Return to collection
Mid-century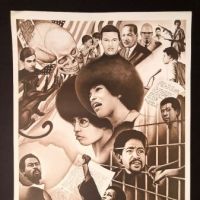 Rare George 8X Stewart Poster Untitled Montage of Black Panther Figures Black Power 1971 
George 8x Stewart an African American Muslim artist who spent the majority of his time in Washington DC. He was arrested and placed in prison for drugs, his addiction forced him to spend many years of his life incarcerated and not treated, a all too common practice of the United States!

After his release he devoted his attentions to drawing, which he learned he had a natural talent for while in prison, very fortunate he did see his potential and self worth, his art of realism and protest subject has made a body of work that is impressive and inspirational as well as a piece of American History.
His subject was mostly protest figures and role models for the time as well as himself, his art is a reflection of the times and of a journey many African Americans took as times were changing but not always for the better. Oppression and persecution of many young men and women was a horror that many people dont want to remember.

In this next group of postings, I have had a great opportunity to work with my client who recently acquired, preserved is a better adjective given the subject matter, posts of George 8x Stewart. I will be posting in a block the posters available by this amazing and culturally important artist of the late 60s-early 70's DC Political Climate.
Title: Untitled (Montage of Black Panther Figures, Black Power)
Partial signature on lower right in plate. Printed on heavy paper
Dated on lower left 1971 with reply address of E. B. Wash Art Gallery 3220 Georgia Ave. NW Washington DC 20010
1971 Black Panther montage poster with key figures in the black power and civil rights movement of the time. One of the strongest posters I have seen and on a scale with the great Emory Douglas art that he did for the Oakland Black Panther Party Newspaper. Every line is meant and every person included is show with conviction and integrity. I really cant say enough about this poster.
Size: 22 1/2 x 17 1/4 inches
Condition: Near perfect condition with no issues to the image or the paper.
If you have any questions or if you need additional images, please feel free to email me.

Note:
shipping cost is for US only, if you are an over seas buyers please email me your shipping address to get a shipping quote.
Shipping will be in a protective Poster Tube
Detail photos Click to enlarge