⬅ Return to collection
Other : 1970-Contemporary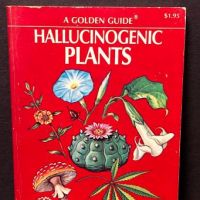 Rare Golden Guide Book Hallucinogenic Plants 1976 Published by Western Publishing Company Softcover Edition
The Golden Guide Books were "a series of 160-page, pocket-sized books created by Western Publishing and published under their "Golden Press" line (primarily a children's book imprint) from 1949. Edited by Herbert S. Zim and Vera Webster, the books were written by experts in their field and illustrated in a simple straightforward style.
Intended for primary and secondary school level readers, the first books were field guides illustrated by James Gordon Irving, with such titles as Birds (1949), Insects (1951), and Mammals (1955). The series later expanded beyond identification guides to cover a wider range of subjects, such as Geology (1972), Scuba Diving (1968), and Indian Arts (1970)."
This very rare and scare edition from 1976 was about hallucinogenics. A book about and some history of the aspects and type of natural and synthetic hallucinogenics.
Only one edition with this being 5 printing of this book was done and is a sought after "drug" book and I am very happy to offer an original in very fine condition.
Year: 1976
1st Edition 5th printing (marked on the last page ABCDE)
Published by Western Publishing


Size: 4 x 6 inches
Condition: very fine with very light edge bumps and slight signs of use. Spine is slight off but no loose pages. Light edge wear on the top and bottom of the book. Back has very faint shelf bumps. Binding is very tight with first page showing slight signs of use. In very strong and very good condition. Please see the images for more details
If you have any questions or if you need additional images, please feel free to contact me.

Note:
Over seas buyers please contact me before purchase with postal code to get a shipping quote. Shipping cost posted is for Domestic shipping only.
Detail photos Click to enlarge