⬅ Return to collection
Glass : Medical & Oddities : 1800s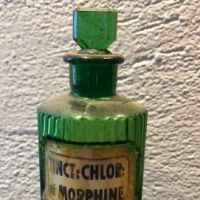 Rare Narcotic Bottle Circa 19th Century for Tincture of Chloride of Morphine Ribbed Green Bottle with Original Stopper
Narcotic Bottle, circa 19th Century for Tincture of Chloride: of Morphine
Abbreviated on the recessed label as Tinct: Chlor: of Morphine
The label is a Tincture of Chloride and Morphine

This is of the more interesting apothecary bottles I have seen, a ribbed green bottle with a recessed label. The 19th and early 20th C. apothecary bottle are mostly made by Whitehall and Tatum in America. and every once and awhile you will see stylized bottles from early apothecaries. Most apothecaries used stylized bottles to protect themselves and the patient, some would use skull corkscrews to show it was a poison, some bottles were colored to show it potential danger and most narcotic and poisonous compounds used red bordered labels, again to show it was dangerous.
So this would make sense that this "Stylized" bottle was top help identify its potential danger and the aded red border was an added warning sign.

The bottle is not marked by maker but it is a three mold jar. The stopper is original to the jar but it is stuck in the mouth and I do not want to force and or damage the bottle.


Size: 5 3/4 inches tall
Condition: The jar is in very good condition and is not cracked or broken. The stopper is original but is stuck in the top. The label has crystallized the coating over the label. The glass cover is not cracked or shattered. I have not forced or tried to clean or alter the bottle in any way. Please see the images for more details.
If you have any questions or if you need more images please feel free to contact me.
NOTE:
The price listed is for US. If you are an overseas buyer please email me your shipping address before purchase to get a shipping quote.
Detail photos Click to enlarge