⬅ Return to collection
Antique Accessories : Historical Memorabilia : 1900-1940s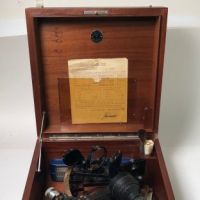 Rare Nautical Instrument C. Plath Kriegsmarine Trommel Sextant 28459 Hamburg Germany Original Box and Fixtures 1948 with Inspection Stamps Complete
"Trommel-Sextant" manufactured by C. Plath, Hamburg, Germany Model No. 28459

The company started in 1837 founded by David Filby. He deals with nautical literature, sea charts as well as nautical instruments imported from Great Britain. Moreover, he has a small repair shop for instruments. IN 1862 Carl Plath took over the company in 1862 and concentrates his business activities on the construction of sextants, compasses, compass casings and barometers.
By 1872, his becomes renowed for his permission instruments, mainly his compass.
In 1900 he receives high reward and medals and in 1913 "C.Plath writes seafarer's history
The ocean steamer Imperator of the Hamburg-America Line, at its launching in 1912 the largest ship of the world, is the first merchant ship worldwide equipped with a gyro compass – a development of the company C.Plath." In 1929 the first Graff Zeppelin cicumnavigates the globe with a C. Plath Sextant.
"The high demand for compasses and navigation instruments during World War II lead to a rapid expansion of the company – the number of employees increased from 34 to 650 persons between 1933 and 1942. After the end of the war, C.Plath is forced to reduce the production of precision instruments to about two-thirds of the level of 1938. To secure its continued existence, the company produces diverse substitute products, from typewriters up to clock units. As of 1949 C.Plath can take up the manufacture of nautical precision instruments in full scale again."
This one is from a client's family member who used this sextant for navigation during his merchant business. Includes the Certificate of Test and the case who inspection stamps.
Model: Trommel- Sextant No. 28459
Date of Manufacture is 1944 with production number of 1639.
Last inspected on 26th Feb. 1948
The case is the original box with the working key. Includes original metal badge of C. Plath and the Certificate of Test stamped signed and dated 1948. Case has address of owner on the front and side along with Inspection Stamps on side and US Customs sticker on the edge.
Includes:
Sextant
Also includes nickel stop watch( working with loose crystal), extra lenses, brush, thermometer, and case with pencils.
Condition: the sextant is working but has not been cleaned or altered. Some aging and wear o the eye piece and the glass are dirty. I have not cleaned or altered this item in anyway. The wood case has light wear on the outside but is missing two rubber feet on the bottom. I have included photos for details, please email me if you need additional images or details.
Please feel free to email me with questions.
Note:
shipping cost is for US only, if you are an over seas buyers please email me your shipping address to get a shipping quote.
Detail photos Click to enlarge