⬅ Return to collection
Jazz : Mid Century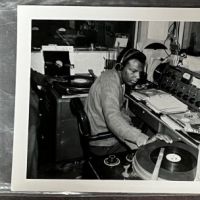 Rare Photo of WSID African American DJ Spinning Records Baltimore Station Circa 1950
Photo of WSID DJ Spinning Records Baltimore Station Circa 1950
Looking closely at the microphone, you can make out the WSID (AM Radio) which started in Baltimore in 1947 by Sidney Tinsley. He targeted the suburban areas of Baltimore but in 1949 a new owner changed the to cater to the African American listeners.
In 1949, Harold Jackson had an early DJ spot, Jackson was a DJ of R&B and also Jazz. Again, looking closely you can see a Savoy Record on the front platter and the back turntable there is a Specialty Record on the on the platter.
Another famous DJ to spin on WSID was the amazing Fat Daddy, Paul Johnson. He is one of the most well known and historical DJs to come out of Baltimore.
In 1952 Douglas "Radio DJo" Henderson took his turn at this radon station, later moving to Philly a year later.

This photo is attributed to be ing Douglas Henderson, comparing later images of the DJ, if so this would be one of the earliest photos of this acclaimed DJ who would later be called the "father of rap", a name he got from his early rhymes he would do between songs.
The photo is printed on Velox paper, a paper Kodak used starting in the 1890's and remained on the market till mid 1950's. The records on the turntable and soundboard place this image circa late 1940's/ early 1950's, corresponding with the use of the paper.
Size:
Condition: Near Mint Condition. No damages or marks. Please see the images for more details.
Please feel free to email me for more images or if you have any questions.
NOTE:
International orders, please email me your shipping address before purchase with your address to get a shipping quote. The shipping price is for US buyers only.
Detail photos Click to enlarge