⬅ Return to collection
Mid-century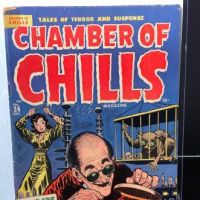 Rare Precode 1st Series of Chamber of Chills no. 24 December 1951 Published by Harvey Cover by Lee Elias
Chamber of Chills no. 24 December 1951 Published by Harvey (1st series)
**Sames Estate as the other Pre Code Comics listed**
Title: Chamber of Chills no. 24
Date: December 1951
Pub by Published by Harvey
Condition: The cover has light bumps at the corners and some light and tiny wrinkles on the spine edge. Small tape on the top and bottom corners of the spine edge. Cover has vibrant and strong colors. Back has very light signs of use, top and bottom corner have small tape at the edge. Inside the binding is tight with minimal signs of use, light pulling at the staples. The pages are very clean and no damage to the strong colors and the papers are still very crisp.
"Cover by Lee Elias. Stories and art by Bob Powell, Howard Nostrand, Marvil Epp, Pierce Rice, and Vic Donohue. Sometimes listed as Chamber of Chills (1951 Harvey) #4. Harvey Comics joins the parade of pre-Code horror comics pioneered by EC in the 1950s. A man swears revenge on the woman who left him at the altar. A stranger enters a town of the dead. Brothers plot to murder their wealthy aunt, but she's got dark powers on her side. The Lost Souls!; The Pale Light Of Death!; Two Ways To Die!; Book Of Vengeance; Ancient Lands Of Mystery!; The Perfect Crime; Weird Facts; The Fighting Corpse; Master of Evil; Pact With the Devil! Series continues, renumbered as Chamber of Chills (1952 Harvey) #5. 36 pages,"
If you have any questions or need additional information, please feel free to contact me.
Noted:
Over seas buyers please email me for shipping quote, please provide me with a shipping address and postal code.
Detail photos Click to enlarge