⬅ Return to collection
Mid-century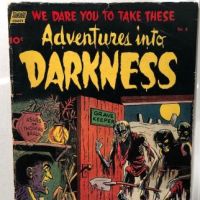 Rare Precode Horror Comic Adventures into Darkness No. 8 February 1953 Published by Standard Comics Better Comics
**Sames Estate as the other Pre Code Comics listed**
Title: Adventures into Darkness No 8
Date: February 1953
Published by Standard Comics / Better Comics
"Contains Alex Toth art. In order of appearance: "Mark of Evil" art by Rocco "Rocke" Mastroserio; "Creepy Crossword Puzzle" activity page; "Death's Bridal Gown"; "The House That Jackdaw Built" art by Alex Toth, reprinted in Setting the Standard: Comics by Alex Toth 1952-1954 HC (2011 FB) #1-1ST; "The Fatal Strands"; and "The Twisted Hands" art by Alex Toth, reprinted in Setting the Standard: Comics by Alex Toth 1952-1954 HC (2011 FB) #1-1ST. "The Beast Wasn't Hungry: Stolen Diamonds Bring a Strange Reward in the Wilds of Africa!" illustrated text story by R. S. Fenton. 36 pages"
Condition: The Cover has some wear on the spine side and the pulling at the staples. Colors are strong, wrinkling at the top edge and light marks on the right with wrinkles. Small tape on the middle edge of right side, wraps inside. Light tears on the bottom edge. Inside of cover has pulling and small tears at the staples. The binding of the comic is very fine but has slight sings of use. No writing or damage inside. The back cover has light soiling to the back, light wear and some wear to the spine edge.
If you have any questions or need additional information, please feel free to contact me.
Note:
Over seas buyers please email me for shipping quote, please provide me with a shipping address and postal code.
Detail photos Click to enlarge