⬅ Return to collection
Mid-century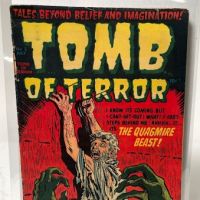 Scarce Precode Horror Comic Title Tomb of Terror No 2 July 1952 Published by Harvey with Cover by Lee Elias
**Sames Estate as the other Pre Code Comics listed**

Title: Tomb of Terror No 2
Date: July 1952
Pub by Harvey
Cover by Lee Elias
Condition: Cover is has issues on the spine edge, chipping at edge with top corner taped. Light wrinkles at the edges. Pulling at second staple but still attached, top staple is not attached to cover. Back has soiling at center and top right has tape. Binding is very good with slight signs of use. The pages are still very clean and still great color. Top left spine edge has tiny piece of tape that wraps to the back, very old tape, yellowing.
Please see the images for details.
If you need more image please tell me what areas you need photographed.
"Cover by Lee Elias. Stories and art by Lee Elias, Joe Certa, Moe Marcus, Rocco "Rocke" Mastroserio, Rudy Palais and Joe Certa. Tomb of Terror was one of Harvey Comics' notorious pre-Code horror comics. A professor aspires to join an evil cult. Carl wants the Treasure of Golgoth, even if it costs the lives of his friends. A murderous ventriloquist steals an evil dummy that encourages him to kill again. Cult of Evil; The Quagmire Beast; The End; Atlantis; The Last Word; No Place To Hide!; The Crypt of Death. 36 pages, full color."
If you have any questions or need additional information, please feel free to contact me.

Noted:
Overseas buyers please email me for shipping quote, please provide me with a shipping address and postal code.
Detail photos Click to enlarge