⬅ Return to collection
Mid-century
This item has been sold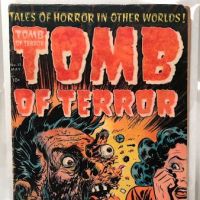 Rare Precode Horror Comic Tomb of Terror No. 15 May 1954 Pub by Harvey Cover by Lee Elias
Tomb of Terror No. 15 May 1954 Pub by Harvey.
**Sames Estate as the other Pre Code Comics listed**
Title: Tomb of Terror No. 15
Date: May 1954
Pub by Harvey
Condition: The Cover is has a slight fade. Bottom right
corner has small marks and top spine edge and spine has some wear. The top right edge has small chip to cover. The back cover also seems to have some fade and the lettering is blurred slightly. The staples are tight but the inside cover has some signs of use but not broken. The inside pages are very good with no writing or damage. Colors are strong.

If you need more image please tell me what areas you need photographed.
"Cover by Lee Elias. Stories and art by Joe Certa, Bob Powell, Nat Barnett, and Jack Sparling. Tomb of Terror was
one of Harvey Comics notorious pre-Code horror comics. A scientists wife decides to get rid of
her husbands robot duplicate, then realizes shes made a horrible mistake. An explorer climbs
inside a gigantic statue before realizing its actually a living giant. Exploding-face cover by Lee
Elias is one of the most notorious covers of the pre-Code era. The Dead Planet; Terror Tricks;
Escape!; Mirror Image; Break-Up; Experiment; Dream…or Nightmare?; The Man Germ. 32
pages, Full Color."
If you have any questions or need additional information, please feel free to contact me.
Noted:
Over seas buyers please email me for shipping quote, please provide me with a shipping address and postal code.
Detail photos Click to enlarge