⬅ Return to collection
[uncategorized]
This item has been sold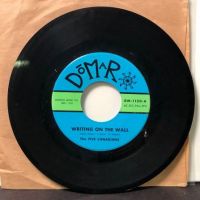 Rare Single by The Five Canadians Writing On The Wall  b/w Goodnight on Domar DM 1120 Texas Garage Single from 1966
The Five Canadians Writing On The Wall b/w Goodnight on Domar DM 1120.
The band was actually from San Antonio, Texas, they had previously been known as The Hangmen (releasing one good single on their own Flo-Pin label in February 1966, 'I'm Gonna Love You / Goodnight'), and then fell under the influence of local promoter 'Colonel' Paul Beckingham. The band really played up their name, I guess Texas was not exotic enough.
This is the band's second single and has been a sought after Texas garage single for many collectors.
Listen Here
SIDE 1

SIDE 2


Condition: Vinyl is VG, starts off with surface at organ level but does drop once music kicks in, still a very rare and good sounding record. As surface at music but no tracking issues. SIDE 2 plays equal to SIDE 1. Sleeve is generic white.
If you have any question or need additional images, please feel free to contact me.
NOTE:
International orders. Shipping will be $18. Please contact me before purchase if you are an International buyer. I will need to adjust the shipping price to reflect a correct shipping cost to you.
Detail photos Click to enlarge