⬅ Return to collection
Mid-century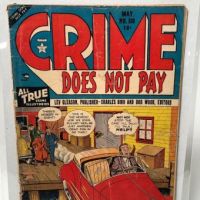 Rare True Crime Comic Crime Does Not Pay No. 110 May 1952 published by Lev Gleason Editors Bob Wood
**Sames Estate as the other Pre Code Comics listed**

Title: Crime Does Not Pay No. 110
Date: May 1952
Published by Lev Gleason
"Cover by Charles Biro. Stories and art by George Tuska, Fred Guardineer, Dick Rockwell, and Charles Biro. The title that launched the crime comics genre, Crime Does Not Pay was noted for its violent pre-Code content and lurid tales of underworld life. A small-time hood falls for a blond femme fatale, unaware she's setting him up to be a gangster's fall guy. After a plane crash, robbers fleeing a crime wind up stranded in the ocean and turn on each other. The Danero brothers rise in the underworld of Prohibition Brooklyn, until they run into a gangster even more ruthless than them. Also featuring a vintage ad for "Lev Gleason Comics picture trading cards." Fall Guy Artie Black; Dis'll Kill Ya; Journey into Horror; Banks and Bullets; Bootleg Gold; Ya'll Die Laffin'; Trigger-Happy Torpedo. 32 pages, Full Color"
Condition: The Cover has fold mark on the center, chipped edges on the right and chipping to the edge. The corners have wear and the left side has pulling at the staples and wrinkles for use. Appears to have glue on the inside cover and first page. The Back has chipping on the top and bottom of the spine side, wrinkles and some soiling. The Binding is used and is slightly weakening. One page has torn off corner effecting the illustration. The Center page has tear at staple and top section of the page is off staple.
If you have any questions or need additional information, please feel free to contact me.
Note:
Over seas buyers please email me for shipping quote, please provide me with a shipping address and postal code.
Detail photos Click to enlarge