⬅ Return to collection
1st Edition : Out Of Print : Rare & Unique : Vintage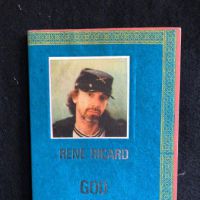 RARE 1st Ed. God with Revolver by Rene Ricard Pub by Hunaman Books 1989, 1990 Dust Jacket MINT
Rene Ricard (July 23, 1946 – February 1, 2014) was an American poet, actor, art critic, and painter.
The young star and scenester of Warhol crowd in the 60's and later becoming the art critique and instigator of the New York art world, helping to launch the careers of Julian Schnabel and helped bring Jean-Michel Basquiat to fame.

His Writing and poetry was done in the late 70's and 80's and his second book of poetry, God With Revolver (Hanuman Books) was published ten years later, edited by Raymond Foye.

Year: 1989, 1990
Publisher: Hunuman Books
Edition: soft cover with printed wrappers.
1st and only edition published.

The Book is stitched bound and has a rich and vibrant printed cover, made in and in the style of Indian style books. The Cover has tipped on photo of the Rene and the title is embossed Silver.

"Hanuman Books was a series of books published between 1986 and 1993 out of the Chelsea Hotel in New York City. Featuring some of the biggest names in avant-garde culture of the time - including figures from Beat poetry, gay and trans culture, Warhol's Factory, San Francisco's North Beach and New York's Lower East Side art scenes, the Naropa Institute, contemporary music and film - the series has since acquired a cult following."

Size: 5 5/8 x 8 3/4
Condition: Very Fine with minimal signs of use or wear. The cover is in very good condition with no tear or marks. A small wrinkle at the top of the book/ dust jacket. No writing or marks inside. The Book has very slight foxing marks, the book has been stored in a smoke free house has been in protective wraps. Please see the image provided for details.

If you have any questions or if you need additional images, please feel free to contact me.

Note:
shipping cost is for US only, if you are an over seas buyers please email me your shipping address to get a shipping quote.
Detail photos Click to enlarge