⬅ Return to collection
Snapshots
This item has been sold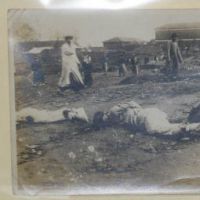 Rare China Photograph of Tientsin Peking Chinese Execution Scene Circa 1912
Rare China Photograph of Tientsin Peking Chinese Execution Scene Circa 1912

A wonderful and rare snap shot, original photo, no markings or date, but the scene is eerie similar to the 1912 Tientsen Peking executions.
The paper is thin, as you can see from the photos I have taken with a flash, the flash shows the silvering of the paper, dating the image to circa first quarter of the 20th century.

Size: 3 x 5 1/2 inches
Condition: some bent corners form being stored, slight fade to the image, close inspection shows finger prints from the printing of the negative and print.

If you have any questions or need additional images, please feel free to email me.



Detail photos Click to enlarge