⬅ Return to collection
Antique Accessories : 1800s
This item has been sold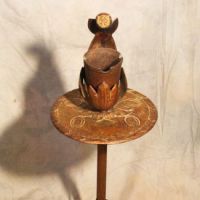 Rare Early 1900s Cast Iron Smoking Stand Opium Poppy Smokers Stand Orientalism
A rare and seldom seen smoke stand with a Opium, Poppy Bulb on the top. The Poppy plants holds the canister, the small tray is missing. The original paint shows wear through out.
This Orientalist stand is one not to miss.
Here is a great quote from a website that summed up the late revivalist culture of the late 1800's and with these few sentences you can see why this Drug was so immortalized in the 1800's.
"Opium is believed to increase the duration of the sexual act. Hence it is often taken by young men, who get accustomed to the drug by constant use. It is also used to steady the nerves for performing some bold deeds requiring immense courage. It is said that satis of yesteryears were fed heavy doses of opium before being asked to ascend their husband's funeral pyre. Rajputs were known to take this drug before going to the battlefield. The French naturalist, Belon, wrote in 1546: "Turks eat opium because they think that they thus become more daring and have less fear of the dangers of war. In war-time such quantities are purchased that it is difficult to find any left."


Size:31" tall
12" wide plate, under neath the ash receiver

Condition: VG with paint loss, small rust on the underside of the stand.

If you have any questions or need additional images, please feel fee to contact me.
Please contact me foe a shipping quote this item before purchase.


Detail photos Click to enlarge