⬅ Return to collection
Art : 1900-1940s
This item has been sold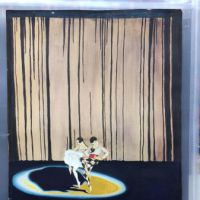 Early Painting By Robert Barrell Signed and Dated 1933 Art Deco Harlequin and Flapper
Robert Barrell (American, 1912–1995) early Art Deco work on paper.

Noted figure in the Indian Space Painting art movement, circa 1940's-1950's.

The Oxford Dictionary of American Art and Artists describe Indian Space Painting as "A form of abstraction practiced mainly in the 1940s and early 1950s. Aiming to produce a distinctive national style, the Indian Space painters fruitfully melded American tribal motifs, most often taken from Northwest Coast examples, with the European modern tradition."

Attributes: Signed full signature lower right and dated 1932

Size: 12" x 16"

Condition: Fine
Small marks on the edge of paper from being framed. No tears or visible flaking to the gauche. Please see image provided for details of condition.

Medium: gauche on artist paper.

Chronology:

Details below are from open online source

"1933 - 1937- Enrolled as a scholarship student at the Art Students' League where he studied with Bridgeman, Sternberg, Leahy, Miller, Newal, Brook and Abeis 1939 - 1940- Began his professional art career when he assisted Carl Roters on the creation of two murals in the Con Edison and Crosley Buildings for the 1939-40 World's Fair. He also assisted Edward Lanning with the New York Public Library's main building at 42nd Street and Fifth Avenue."

Details below are from open online source

"Robert Barrell studied at the Arts Students League and the Hans Hofmann School, though he never enrolled officially in Hofmann's classes. Barrell spent much time with Wheeler absorbing Northwest Native American art at the American Museum of Natural History. He eventually painted five murals for the museum as a WPA staff artist
"Like other Indian Space painters, Barrell sought to take Cubism to its next stage, combining elements of Surrealism, Cubism and Native American art in vividly original compositions. He exhibited at 57th Street galleries through the 1940s, but in 1948 turned away from abstraction; as he later explained, he "gave up Indian Space to reclaim the image."


If you have any questions or if you need additional images, please feel free to contact me.


Detail photos Click to enlarge