⬅ Return to collection
Daguerreotype
This item has been sold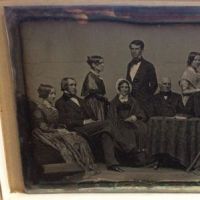 RARE Large Full Plate Daguerreotype Attributed to John Adams Whipple Massachusetts 10 People
Attributed to John Adams Whipple (September 10, 1822 – April 10, 1891). American Daguerreotype inventor and was the first in the United States to manufacture the chemicals used for daguerreotypes; he pioneered astronomical and night photography; he was a prize-winner for his extraordinary early photographs of the moon.
He was located and operated out of Massachusetts and was also know for his large format Daguerreotypes. There example of his large group portraits and can be identified with the same furniture and props in his images. Notice the table, there are other examples of this exact table and covering being used in other portraits.

This large Daguerreotype comes from a client with ties to Boston Mass and there will be information on the family history, please stay tuned for more info on this.
The back is copper with remnants of lacquer and chemicals, please see images for details.


Size: 6 1/4" x 8 1/4" inches
Condition: fine, minor surface marks and abrasions to the image front.

If you have any questions or if you need additional images, please feel free to email me.


Detail photos Click to enlarge