⬅ Return to collection
Vintage
This item has been sold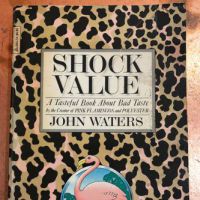 RARE Over 18 Signatures Of John Waters Divine and other Stars of Polyester Shock Value Book SIGNED!!
John Waters Shock Value 1981 Book Signed By Massey, Divine, Waters and 11 other RARE!!

From a private collection in Baltimore MD comes this amazing treasure trove of signatures. The book is from the 1981 and is the early edition of the times, fun and raunchy and documenting the days of John Waters filming making.
The book is from a man who was there, friends and part of the goings on in this time. As you can see by the personalized messages in the signatures my client was there first hand.
Sadly some of the "stars" are no longer here but are here with all their friends and in one book.
I can't fit all the photos of every signature but I have included the main ones and here I will list the names. As you can see there are a few signatures of John Waters and Divine!

The Book
Title: Shock Value A Tasteful Book About Bad Taste
By: John Waters
Publisher: Delta
Year: 1981
Stated First Printing

Size: 7 x 10 inches
Condition: fine, with some wear to the book, water stains on the edge of the pages. Does Not Effect The Signatures
The cover has bends and some some soiling, some yellowing wear a news paper was laid in on the first page, this has yellowed slightly the signature of John Waters. Please see the images provided for a visual description.


Signatures:
John Waters
Divine
Edith Massey
Van Smith
Susan Lowe
Mink Stole
Judith Klein
Pat Moran
? Maurice
? Haus ….
Jean Skila (Edith's Roommate)
Paul ( Eggman )
Vince Peranio
Elizabeth

NOTE:
Not all the signatures can fit onto my site, please email for a complete email of ALL the signatures

The book is used and has marks, some soiling and bent corners. Signatures are not altered or damaged. Please see the images for details. If you would like a complete email of the signatures, please email me.

If you have any questions or if you need additional images, please feel free to email me.
Note:
The price for shipping is US only, if you are an over seas buyers, please email me your shipping address to get a shipping quote.
Detail photos Click to enlarge