⬅ Return to collection
Historical Memorabilia : 1800s
This item has been sold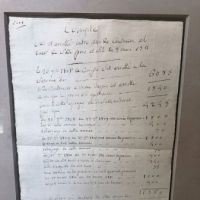 Rare Signed Document of Marquis de Sade 1811 While In Prison
**Coming Soon**
Donatien Alphonse François, Marquis de Sade (2 June 1740 – 2 December 1814)

"Sade was incarcerated in various prisons and an insane asylum for about 32 years of his life: 11 years in Paris (10 of which were spent in the Bastille), a month in the Conciergerie, two years in a fortress, a year in Madelonnettes Convent, three years in Bicêtre Asylum, a year in Sainte-Pélagie Prison, and 12 years in the Charenton Asylum. During the French Revolution, he was an elected delegate to the National Convention. Many of his works were written in prison."
In 1803….. He was "transferred once more to the Charenton Asylum. His ex-wife and children had agreed to pay his pension there. Constance, pretending to be his relative, was allowed to live with him at Charenton. The benign director of the institution, Abbé de Coulmier, allowed and encouraged him to stage several of his plays, with the inmates as actors, to be viewed by the Parisian public."
"In 1809, new police orders put Sade into solitary confinement and deprived him of pens and paper. In 1813, the government ordered Coulmier to suspend all theatrical performances."

Rare and signed Document of Marquis de Sade while in prison.

This detailed list of expenses of what it took to keep de Sade "happy" and "content".

More details coming soon.

Size:
Condition:

Notes:
The document has been framed with modern conservation materials and techniques. Receipts of the framing can be supplied on request.

There is a typed translation from the document from the Rare Manuscript dealer who sold the piece to my client.

If you have any questions or if you need additional images, please feel free to contact me.

Overseas buyers, please email your shipping address for a shipping quote, price for shipping is for US buyers only.

Detail photos Click to enlarge