⬅ Return to collection
Limited : Modern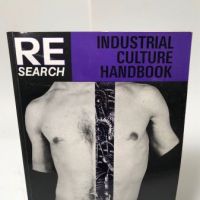 Re Search # 6/7 Industrial Culture Handbook 4th Edition 1987 Softcover Throbbing Gristle Cabaret Voltaire SPK
Re/Search #6/7 Industrial Culture Handbook 4th edition July 1987 softcover.
First edition was 1983, and is one of the harder titles to get in an early edition. Many of you have the ones you got in whatever year and this title will remain coveted in collection. BUT… now is your chance to get an early edition that has inspired and demented and altered the person before. As many early industrial bands and fans have practiced occult magick practices, this copy has been imbued!
Size: 11 x 8 1/4 inches
Condition: Very good, with light bumps at the corners from shelf and storage. Top right corner has small curl and the top left has a small dent to the edge. The back has lamination wrinkle, please see the images for details. The binding is fine with light signs of use. Very light stain on the inside of the front cover. Please see the images for more details.
Synopsis:
"Cultural Writing. Essays. Interviews. Photographs. The INDUSTRIAL CULTURE HANDBOOK, edited by V. Vale, is a reference guide to the philosophy and interests of a flexible alliance of the following deviant international artists: Throbbing Gristle, Cabaret Voltaire, SPK, Z'er, Non, Monte Cazazza, Mark Pauline, Sordide Sentimental, Johanna Went, and R&N. Most of these artists have been working creatively a decade or longer, in varying degrees of obscurity. The impetus in common is rebellion."
If you have any questions or need additional information, please feel free to contact me.

Note:
Overseas buyers please email me for shipping quote, please provide me with a shipping address and postal code.
Detail photos Click to enlarge