⬅ Return to collection
Black and White Silver Print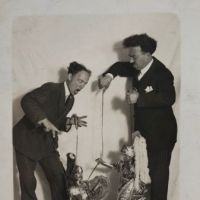 Real Photo Pitch Card for Sicilian Marionette Show Famiglia Greco Italian Circa 1920s Stamped on Back
The Marionette show was once a time honored tradition, people would gather around to watch the comic, tragic and social commentary of the Puppet Masters. The characters were sometimes well know like Punch and Judy but other were historical figures and fantasy characters. The tradition goes back hundreds and thousands of years. Luckily early photography captured some of these forgotten keepers of tradition.
"The Sicilian Puppet Theatre (Opra) is a characteristic theatre performance where the puppets, animated by "puppeteers", represent the exploits of the greatest medieval heroes who fought for Christendom against the Saracens."
Here is one that was a pitch card of sorts, pitch cards were used to promote and a way to make extra money for the artist. This one has a rubber stamp on the back with " Sicilian Marionettes Show Famiglia Greco Piazza S. Cosimo Palermo Every Day At Half Past Five"
The show is run by Famiglia Greco
The two men, characters in the themselves, act out a small scene of their craft, the two knights battle it out. The knights were a typical puppet used in Italy.
The Photograph is a real photo and is circa a1920's, printed on mat paper with beautiful tones.
Size:
Condition: The image is crips and sharp with fine detail of the men and the puppets they wield. The back stamp is in great shape, slight fade to the reddish ink. Please see the images for more details.
If you have any questions or need more images please feel free to contact me.
NOTE:
The price for shipping is for US buyers only. If you are an overseas buyer please contact me before purchase to get a shipping quote. Please provide me with your shipping address.
Detail photos Click to enlarge