⬅ Return to collection
Real Photographic Postcard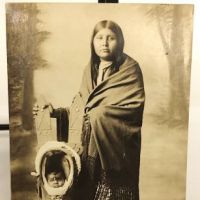 Real Photographic Postcard Hazel Jenquah and Babe Comanches Wife of Oscar Yellow Wolf Circa 1910
Real Photographic Postcard Hazel Jenquah and Babe Comanches Wife of Oscar Yellow Wolf Circa 1910
A Real Photographic postcard of Native American Woman with Child.
The woman is named as "Hazel Jenquah and Babe Comanches Bates"
The woman is actually identified on Native American Encyclopedia as Hazel "Taddnahnappih" who is documented as the wife of Oscar Yellow Wolf, a Comanches.
Oscar Yellow Wolf's images of him on horseback and other images also are real photographic postcards and are dated circa 1905-1911.
A wonderful document of Native American life and full traditional dress is a great asset and a glimpses into another document of Native American culture.
The Back of the postcard is not stamped but is a note of seeing Hazel.
Size: 3 1/2 x 5 1/2 inches
Condition: Almost perfect with minor bump edges from storage. The image is remarkable condition with no issues. Please see the images for more details.
NOTE:
The price for shipping is for US only, if you are an overseas buyer, please contact me before purchase to get a shipping quote. When emailing me, please send me your mailing address to get a shipping quote.
Detail photos Click to enlarge