⬅ Return to collection
Real Photographic Postcard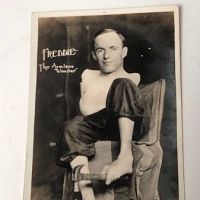 Real Photographic Postcard Sideshow Performer Freddie The Armless Wonder Esele Signed 1928 with Full Name and Address
A Photographic Postcard Signed with Address of Freddie Esele at age 28 in 1928.
Freddie "The Armless Wonder" Esele was a sideshow performer who some report being born in 1888 and others say 1900.

He signed and dated the reverse Freddie Esele, 182 Van Alst ave. and the bottom line I can not make out.
It is dated with his age of 28 1928, but Freddie was a showman and dated himself 28 or close to 28 on multiple cards dating from 1917 to 1928.
This great pitch card is a real photo and printed on a postcard. Pitchcards were a revenue for performers and was a way for them to make a few extra dollars. Many performers made a large living off of their travels with the circus and Freddie was no exception.


Size: approx. 5 1/2 x 3 1/2 inches
Condition: the image is in very good condition with a slight curl to the paper and a small pin hole on the top and bottom margin. The back is signed and is very clean with iron ink, dated on the back 1928. Some light finger prints on the back but the ink is very legible and in very good condition. Please see the images for more details.
If you have any questions or need additional information, please feel free to contact me.

Noted:
Overseas buyers please email me for shipping quote, please provide me with a shipping address and postal code.
Detail photos Click to enlarge