⬅ Return to collection
Snapshots
This item has been sold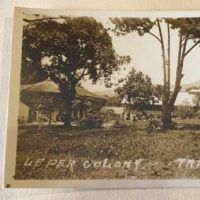 Real Photographic Postcard Leper Colonly Circa 1930's Trinidad BWI
Circa 1930's this real photographic postcard of the Leper Colony in Trinidad British West Indies.

Size: 5 3/8 x 3 1/2 inches
Condition: very fine with minor curl and slight bumps to the edges from being stored. No writing on the back, please see images for details.


The Leprosarium was housed on this relatively remote island from 1927 to July 1984, as Leprosy was considered contagious and until the middle of the twentieth century, there was no cure. Dominican Nuns were primary caregivers of the lepers.

If you have any questions or if you need additional images, please feel free to contact me.

Detail photos Click to enlarge