⬅ Return to collection
Art : Posters : Vintage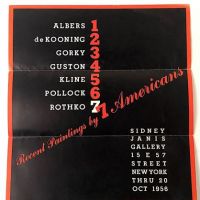 Recent Paintings by 7 Americans Sidney Janis Gallery New York Opening September 24- October 20 1956 A Very Rare Poster
Recent Paintings by 7 Americans Sidney Janis Gallery New York Opening September 24- October 20 1956. Exhibition of Josef Albers, William de Kooning, Arshile Gorky, Philip Guston, Franz Kline, Jackson Pollock and Mark Rothko.

Printed Invitation mailed, folded with type address of recipient (Philip Pavia, 1911-2005, who was a founder of the New York School of Abstract Expressionism).
The mini poster has been folded three times.
Size: 11 x 12"
Condition: The poster has been folded, folds have very faint wrinkle on the left side part of the line. Very faint wear on the right fold marks. The back has light wrinkles at the fold and some faint and minor soiling to the white back. The typed address is clear. Please see the images for more details.
"Sidney Janis Gallery first opened in 1948 and over the decades became a beacon for some of New York City's most avant-garde artists. Art collector, dealer and businessman Sidney Janis, along with his wife Harriet, swiftly established the gallery's reputation by curating exhibitions of Léger, Mondrian, the de Stijl artists, the Futurists and the Fauves. Beginning in 1952, Janis gave Jackson Pollock the first of three solo shows, further establishing the cultural dominance of Abstract Expressionism. Ten years later, the gallery put on its most famous exhibition, The New Realists. Throughout the gallery's existence, it ably and consistently measured the pulse of the New York art world in showcasing some of the finest and riskiest avant-garde art of the 20th century."
Phillip Pavia was one of the founders of the New York School of Abstract Expressionism. Along with his art, Pavia was editor and publisher of the short-lived but very highly influential art journal It Is: A Magazine for Abstract Art.
If you have any questions or if you need additional images, please feel free to email me.

Note:
shipping cost is for US only, if you are an over seas buyers please email me your shipping address to get a shipping quote.
Detail photos Click to enlarge