⬅ Return to collection
Folk Art & Outsider Art : Jewelry : 1800s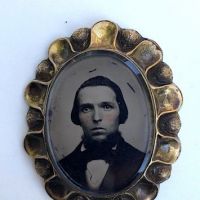 Remarkable Rose Gold Brooch with Tintype Portrait of Young Man with Stylish Beard Circa Civil War Era
Rose Gold Brooch with Tintype Portrait of Young Man with Stylish Beard Circa Civil War Era
A new Collection of Civil War era artifacts have come in to my store. My client who has been a 19th C. Medical collector has opened his drawers to have me sell Gold and Gold Filled Photographic broaches and memori morti items.
The first item I am offering from this collection was the post of the Hair Art Broach that is dated approx 6 months after the start fo the Civil War, please see that post here:
https://www.sturgisantiques.com/items/civil-war-hair-art-broach-with-rose-gold-dated-october-5th-1861-memento-mori-for-a-soldier/index.php
A Remarkable Rose Gold brooch, approx 10-12 K gold with a small tintype portrait of a young man with a beard. The brooch is a ribbon edge with subtle stipple detail on the ball part of the ribbon motif. The glass has been replaced at one point and looks to be close to period in thickness.
The young man has a beard that would be on a Civil war soldier or on a man of some means. His clothes are clean and stylish and there is not a hair out of place.
Weight: 6 pennyweight
Size: 2 1/4 x 1 /2 inches
Condition: the brooch is fine with no damage to the front and the photo is in remarkable condition. Minor aging but not damaged or deterioration to the image. The back of the brooch does appear to have an early repair, the addition of the small loop is evident. Please see the images of the details of the brooch. Please email me if you need more images.
If you have any questions or if you need additional images, please feel free to contact me.
NOTE:
If you are International buyer, please email before purchase with your mailing address to get a shipping quote.
Detail photos Click to enlarge