⬅ Return to collection
Daguerreotype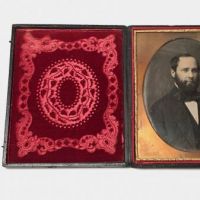 Remarkably Clear and Detailed Half Plate Daguerreotype by Baltimore Daguerreotype Photographer Henry Pollock, Circa 1850 
Remarkably Clear and Detailed Half Plate Daguerreotype by Baltimore Daguerreotype Photographer Henry Pollock, Circa 1850
Half Plate Daguerreotype by Henry Pollock, prominent Baltimore photographer from 1849-1889. According to resources and directories, Pollock was active starting in 1849: 147 Lexington (1849); 155 Baltimore (1850-1867); 44 Lexington (1868-1886); 9 E. Lexington 1887-1889).

His ad in 1850:
"DAGUERREOTYPES--BALTIMORE ST., next door to Calvert-- The most central location, and largest light in Baltimore-- one of the best, full sized Cameras in the world-- the most conveniently arranged and elegantly furnished rooms, with a private dressing apartment for ladies, in charge of one of their own sex-- to say nothing of the superiority of the PICTURES produced-- must soon place this establishment far ahead of all others in public favor and patronage. TS, January 11, 1850."
Pollock was one of the few early daguerreotypist in Baltimore. This very early daguerreotype, you can see how wealthy and prosperous this man was, I do not know who the man was but due to the size and how early this daguerreotype is, we can assume he was very wealthy. You can see how wealthy and precise Pollock's daguerreotypes are, the great and precise clarity in the image. This was due to the fine quality of the lenes the daguerreotypes needed and Pollock being a very early photographer in Baltimore had both quality and large scale cameras able to accommodate the large plate size.
According to ssdagers.com.."Embossed case pad "POLLOCK/ 147 Lexington ST./ BALTIMORE" for earliest Images; mats blind-stamped "POLLOCK BALTo." after move to Baltimore Street location."
First the image, hand tinting on his white shirt and color in his face make this image stand out. Dressed in the current fashion of the day, not outlandish or decadent but conservative and standard in his looks and demeanor, trimmed beard and hair with fine tailored and clean clothes. The clarity of this daguerreotype is outstanding, hair strands can be counted and the piercing eyes can be seen.
The mat is a simple and early mat, stamped on the bottom left Pollock and the right Balto.
The case is a fine and soft leather case with simple stylized flower design but not typical or common looking. The Red Velvet inside is a beautiful design, the center cameo of a wreath of flowers is a very fine touch.
The Half Plate was amazing and they were very expensive to make. The case image case has a very decorative brass mat and the at the bottom of the mat is the name "Pollock".
My client was researching Baltimore Photographers in the 1970's and bought and stored this image in its original mailer, dated 1972. Please see the images.
I have photographed the Half Plate Image next to a Quarter Plate (3.25 x 4.25 inches ) size image, you can see how much bigger and rarer these Half Plates are.
Size: Half Plate 4.25 x 5.5 inches
Condition: The image is in near perfect condition, very clear and slight marks on the underside of the front glass, the image plate has slight marks on the right side. The image has not been out or opened and may need new seals in the future. The Leather case is in very clean and pristine condition, minor edge wear from storage and age but in very clean condition with tight hinge and tight seal when closed. Please see images for details.
If you have any questions or need more images, please feel free to email me.
NOTE:
The price listed is for US. If you are an overseas buyer please email me your shipping address before purchase to get a shipping quote.
Detail photos Click to enlarge