⬅ Return to collection
Limited : Modern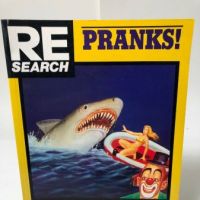 Re/Search Pranks! #11 5th Printing March 1991 V. Vale Softcover Ed.
Re/Search Pranks! #11
Devious Deeds and Mischievous Mirth from Abbie Hoffman, Timothy Leary, Mark Pauline, John Waters and more…

5th Printing March 1991
Published by V. Vale
Softcover Ed.
From Re/Search Site.
Bio:
"In the early years RE/SEARCH gained international attention by introducing the world to artists such as William S. Burroughs, J.G. Ballard, Genesis P-Orridge, SPK, Monte Cazazza, and many others. RE/SEARCH has continued to remain vital in its lengthy history by refusing to adhere to a formula for an easily identifiable "Punk Culture." Its best-selling books include The Industrial Culture Handbook (which inspired 10,000 "noise music" bands), Incredibly Strange Films (little-known filmmakers), Incredibly Strange Music Vol. One and Two (little-known vinyl LPs), Modern Primitives (which launched the body-piercing underground), Pranks (and its follow-up, Pranks 2).."
These books have inspired and influenced so many people and at the time, this was THE only way to learn and hear about Counter Culture and things left of center. Without V. Vale, the punk world and counter culture of the 70's-90's would have been very different. Because of his work, punk and culture was able to reach the far corners. Thank you V. Vale!!
Size: 11 x 8 1/4 inches
Condition: Very fine, with no marks inside. Light signs of use and very slight wear to the cover at the edges. Back is very fine and the binding is strong with minimal signs of use. Please see the images for more details.
If you have any questions or need additional information, please feel free to contact me.

Note:
Overseas buyers please email me for shipping quote, please provide me with a shipping address and postal code.
Detail photos Click to enlarge