⬅ Return to collection
[uncategorized]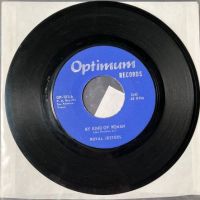 Royal Jesters My Kind of Woman b/w I've Got Soul on Optimum Records San Antonio Soul Single
Royal Jesters My Kind of Woman b/w I've Got Soul on Optimum Records OP 101
The Royal Jesters were from San Antonio Texas and what a prolific band, a blend of soul and Latin the band had numerous singles. This one of Optimum Records was a label from San Antonio which started in the mid 1960's.
The bands earliest single was from 1960, a great Doo Wop number.
LISTEN HERE
SIDE 1

SIDE 2

Condition: Vinyl is high VG, plays with slight surface, heard at music, still great tones and clear but surface can be heard at music. Visually no marks and is shiny vinyl. SIDE 2 plays equals no tracking issues and both labels are VG+, a small line on one side, very minor. Sleeve is generic white.
If you have any questions or if you need additional images, please feel free to email me.

Note:
shipping cost is for US only, if you are an over seas buyers please email me your shipping address to get a shipping quote.
Detail photos Click to enlarge