⬅ Return to collection
Other : 1970-Contemporary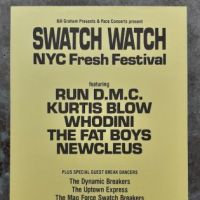 Run D.M.C., Kurtis Blow, Whodini, The Fat Boys, Newcleus at Oakland Coliseum Arena Bill Graham & Pace Concerts 1984
Run-D.M.C, Kurtis Blow, Whodini, The Fat Boys, Newcleus and special guest break dancing crews at the Oakland Coliseum Arena, Oakland, California, December 9, 1984.
A fantastic and Near Mint Offset Printed Poster
Presented by Bill Graham and Pace Concerts
1984 is the breakout year for Run DMC, their first release and the Swatch Watch New York City Fresh Festival Tour brings Hip Hop to a national attention and giving hip hop it's break into arenas and coliseums.
One of the top import shows and tours for Hip Hop.


"RUN-DMC
BILL GRAHAM PRESENTS & PACE CONCERTS PRESENT SWATCH WATCH NYC FRESH FESTIVAL FEATURING RUN D.M.C., KURTIS BLOW, WHODINI, THE FAT BOYS AND NEWCLEUS" CONCERT POSTER. (OAKLAND, CALIFORNIA: 1984)"
Vintage concert poster black type on yellow paper stock.
Size: 11 by 17 inches
Condition: Near mint
If you have any questions or if you need more images please feel free to contact me.
NOTE:
The price listed is for US. If you are an overseas buyer please email me your shipping address before purchase to get a shipping quote.