⬅ Return to collection
Mid-century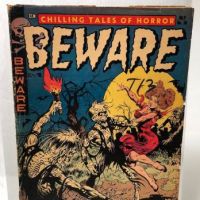 Scarce Issue of Beware N0 10 July 1954 Frank Frazetta Cover Art Published by Trojan Merit Precode Horror Comic
**Sames Estate as the other Pre Code Comics listed**

Title: Beware No. 10
Date: July 1954
Pub by Trojan/ Merit
Cover by Frank Frazetta

Condition: Cover has some wear on the left side and pulling at the staples and has tape on the side at staples, not on the front. SEE ATTACHED PICS. Lower left corner has a small chip at the bottom. Light wrinkle at the corners and marker writing in "moon". The colors are still very crisp and bold. Back has light soiling from age and the top center edge has a chip. Binding is tight and the pages are very clean with crisp and bold colors inside.
Please see the images for details.
If you need more image please tell me what areas you need photographed.
"Cover by Frank Frazetta and Sid Check. Stories and art by Henry Kiefer, Art Gates, Sid Check, and Jay Disbrow. Pre-Code horror comic from Trojan Magazines. Treasure hunters seeking lost pirate gold find skeleton pirates still guarding it, even underwater. A hanged man seeks revenge on those who framed him, in a story that may feature inks by Wally Wood or Frank Frazetta. Scientists seeking the secrets of life and death encounter a zombie. Early cover by art legend Frank Frazetta. The Bell Tolls Death!; Man with the Broken Neck!; The Thing in the Fens; Out of the Grave…; The Spell of Doom!"
If you have any questions or need additional information, please feel free to contact me.

Noted:
Overseas buyers please email me for shipping quote, please provide me with a shipping address and postal code.
Detail photos Click to enlarge