⬅ Return to collection
[uncategorized]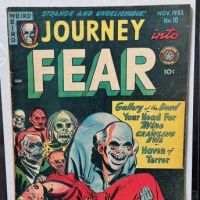 Scarce Precode Horror Comic Journey Into Fear no. 10  November 1952 Published by Superior Dynamic
**Sames Estate as the Pre Code Comics listed**
Title: Journey Into Fear no. 10
Date: November 1952
Pub by Superior Dynamic
Condition: Cover is very clean with no marks on the front. Slight pulling at the staples, cover is attached. A small edge tear on the right edge at center. Back is very clean, minor tone to spine edge and small marks on the left side. Binding is tight and pages are crisp. Printing is a bit flawed, light and smudge from print.
"Gallery of the Dead; Lovely Lorna was born among the hex-ridden people of a desolate village and reared by a hateful, crazed beldame; her body was destined to be devoured by the Worms of Wrarth. Haven of Terror; a down-on-his-luck man finds a dead body in the place where hes staying. Legacy of Horror text story. Your Head for Mine; a woman loses her head over the handyman, and her husband lost his in an untimely demise. Crawling Evil; Lorna is trained to hate men; She finds a witchcraft book; She begins a crusade of turning men into worms and squishing them. 36 pgs."
If you have any questions or need additional information, please feel free to contact me.
Noted:
Over seas buyers please email me for shipping quote, please provide me with a shipping address and postal code.
Detail photos Click to enlarge