⬅ Return to collection
Mid-century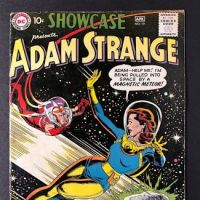 Scarce Sci Fi Comic Showcase Presents Adam Strange No 19 1959 Published by DC Comics
Showcase Presents Adam Strange No. 19 1959 Published by DC Comics. The time travel and planet traveled Archeologist, amazing sci fi art and some great battles scenes.
"3rd appearance of Adam Strange (and first Adam Strange logo). "Challenge of the Star-Hunter!", script by Gardner Fox, pencils by Mike Sekowsky, inks by Joe Giella; In Calcutta, India, Adam Strange is in the attendance of a number of explorers who wish to witness an ancient rope trick; When one of the locals explain that it's a trick, and nobody can disappear at the end of the rope, Adam Strange offers to prove him wrong; He manages to climb up in the air and - to everyones astonishment - disappear; However, none witnessing could guess that Adam really intercepted the next Zeta-Beam and is transported to Rann; Arriving on his adopted world, Adam finds himself greeted by Alanna and a delegation of people from Rann who inform Adam that a super-being known as Leothric has appeared and demanded to face Rann's chosen champion. The "End" of the Universe article. "Mystery of the Mental Menace!", script by Gardner Fox, pencils by Mike Sekowsky, inks by Sy Barry; Arriving in the African Veldt, Adam Strange prepares to intercept the next Zeta-Beam when he hears the cries of an explorer that is about to be trampled by a herd of elephants; He frees the man and manages to catch the next Zeta-Beam. 36 Pages, Full Color. Cover price $0.10."
Condition: Cover has light wrinkle on the spine edge with light pulling at the staples. Corners have bumps and lower right that small curl to edge corner. Binding is strong, inside of the cover has some signs of pulling at the staples, still strong and attached. No writing inside. Back cover has Stamp date of Jan. 20 1959, light soil from storage.
If you have any questions or if you need additional images, please feel free to contact me.
Note:
Over seas buyers please contact me before purchase with postal code to get a shipping quote. Shipping cost posted is for Domestic shipping only.
Detail photos Click to enlarge