⬅ Return to collection
Toys : 1900-1940s
This item has been sold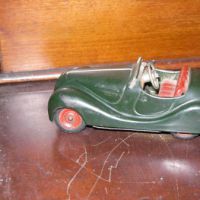 Schuco Akustico 2002 Tin Car Working with Horn
Schuco made some amazing toys and the Pre War cars are some of the best and unique.
This car is a model Akustico 2002 model is made in Germany.
The car is very similar to a BMW 328 in body style with the sleek look.
One of the unique feature of this model, is a second clock-work mechanism, allowing the horn to sound up to 300 times before it needs rewinding. The Horn, steering, and handbrake all seem to be working fine.
The Car is in very good condition with minor paint chipping ad the horn cover is missing. The tires are in remarkable shape as well as the rims.
There is no key to this car.

Detail photos Click to enlarge