⬅ Return to collection
Vintage
This item has been sold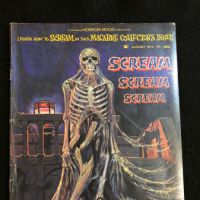 Scream #1August 1973 Published by Skywald Cover by Vicentes Segrelles Rare First Issue
** Same Estate as the other Horror Comics**

Title: Scream #1
Date: August 1973
Published by Skywald
Condition: Cover is VG with minor pulling at the staples and the back cover is VG with some soiling on the back. If you need more image please tell me what areas you need photographed.

Cover by Vicentes Segrelles. Edited by Al Hewetson. Stories by Al Hewetson. Art by Zesar Lopez, Jose Gual, Felipe Dela Rosa, Ferran Sostres, Maelo Cintron and Fernando Rubio. Horror anthology produced by upstart publisher Skywald, founded by Marvel and Warren veterans, and featuring artists of the Filipino New Wave. A horror spoof of underground cartoonists Jay Lynch & Robert Crumb, The Strange Painting of Jay Crumb; in another story, Seduction of the Innocent author Fredric Wertham goes to Skywald to complain and all hell breaks loose.

Size: 8 1/2-in. x 11-in., 48 pages

If you have any questions or need additional information, please feel free to contact me.

Noted:
Overseas buyers please email me for shipping quote, please provide me with a shipping address and postal code.
Detail photos Click to enlarge