⬅ Return to collection
Modern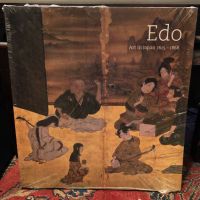 SEALED Edo Art in Japan 1615-1868 By John Carpenter & Robert Singer National Gallery Softcover 1998
Title: Edo, Art in Japan 1615-1868
By John Carpenter and Robert Singer
Published by National Gallery Of Art
Year: 1998
Softcover Edition

Size: Oversized coffee table book 11 1/2 x 12 1/2 x 1 1/2 inches
Condition: SEALED, the shrink-wrap is intact and unopened but approx. 5" of the top shrink-wrap is ripped. Minor bump to the very bottom of the spin. Please see details attached for a visual description.

"Review:
Edo: Art in Japan 1615-1868 is the lavish catalog of an exhibition organized on a scale never before attempted--even in Japan. There, the art of the Edo period is considered too vast a subject for a single show. Edo, the old name for Tokyo, has come to represent the two and a half centuries when the shogun's government intentionally isolated Japan from the rest of the world."

If you have any questions of if you need more images, please feel free to email me.

Note:
Overseas buyers, please email me your shipping address for a quote.

Detail photos Click to enlarge