⬅ Return to collection
Out Of Print : Modern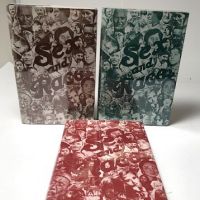 Sex and Race by J. A. Rogers Published By Helga M. Rogers Hardback with Dust Jacket 3 Volumes African History
Joel Augustus Rogers (September 6, 1880/3 – March 26, 1966) was a Jamaican-American author, journalist, and historian who contributed to the history of Africa and the African diaspora. After settling in the United States in 1906, he lived in Chicago and then New York City. He became interested in the history of African Americans in the United States.
"Rogers wrote regularly for the Pittsburgh Courier, the New York Amsterdam News, and the Chicago Defender, and he contributed several important essays to A. Philip Randolph's radical-socialist Messenger Magazine during the Harlem Renaissance. (He also wrote the only essay on that emerging art form called "jazz" in Alain Locke's seminal 1925 anthology The New Negro.) But the triumph of his career as a journalist, without a doubt, was his coverage of events in Ethiopia. The Courier sent Rogers — the only African-American journalist on the ground — there to cover the Italian occupation of Ethiopia (1935-1936), including an interview with Emperor Haile Selassie, whose coronation Rogers had also attended in 1930. Rogers worked for the Courier from 1921 to 1966. In 1934, the same year in which he published 100 Amazing Facts About the Negro, he began publishing a weekly column titled "Your History," which he retitled "Facts About the Negro" in 1962."
I have the three volumes, they are varied edition but all published but the same Publisher, Helga M. Rogers.
Volume 1 Ninth edition 1968 Red Dust Jacket
Volume II Tenth edition 1991Green Dust Jacket
Volume III Fifth edition 1972 Brown Dust Jacket
All three volumes are hardback with corresponding colored Dust Jacket.

Condition: The binding is tight with very minimal signs of use or wear. The dust jacket are in in near mint condition and are in protective mylar covers. Each volume has pencil writing on the first page, please see the images for this detail. Please see the images provided for more details.
If you have any questions or need additional images, please feel free to contact me.
Note:
The shipping price is for US buyers only, if you are an overseas buyer please contact me before purchase with your mailing address to get a shipping quote.
Detail photos Click to enlarge