⬅ Return to collection
Mid-century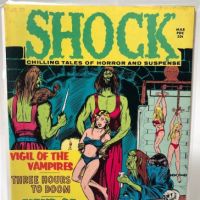 Shock Chilling Tales of Horror March 1971 Published by Stanley Publisher Vintage Horror Comic
**Sames Estate as the other Pre Code Comics listed**
Title: Shock Chilling Tales of Horror
Date: March 1971
Published by Stanley Publisher
"Stories and art by Gus Ricca, Frank Simienski, King Ward, Pete Riss, Lou Cameron, and Rocke Mastroserio. Another horror magazine from Stanley Morse Publications, featuring tales of maniacs, monsters and the undead. A couple struggles to defeat a ghost that cannot be banished while his coffin floats in a pool of mercury. Communist agents steal a powerful new atomic device and threaten a city. An evil hypnotist takes possession of a woman's soul. Deadly Doll of Horror; The Floating Coffin; Vigil of the Vampires; Fiend of the Undead; Three Hours to Doom; Eyes of Hell. 8 1/2-in. x 11-in., 48 pages, B&W."
Condition: The cover is VG + with a small stamp of a date on the top left corner and minor pulling at the staples. The binding is tight and the back cover is VG +. Please see the images provided for more details
If you have any questions or need additional information, please feel free to contact me.
Note:
Over seas buyers please email me for shipping quote, please provide me with a shipping address and postal code.
Detail photos Click to enlarge