⬅ Return to collection
[uncategorized]
This item has been sold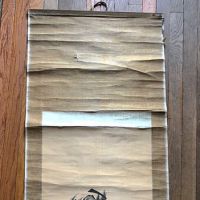 Shoki The Demon Queller Painted Scroll Crica 1900 Late Meiji Period
Shoki THE DEMON QUELLER
Protector Against Evil Spirits & Illness
Expels the Demons of Plague
Guardian -- Safety of Hearth & Home
Protects Homes with Male Children

History, from on line source:
"Shōki 鍾馗 is a deity from China's Taoist pantheon who was depicted often in Edo-period (1615-1868) Japanese sculptures and paintings, but one who is today largely neglected. Legends about Shōki reportedly first appear in Tang-era (618-907) Chinese documents. The deity reached Japan by at least the late Heian Period (794 to 1185), for the oldest extant image of Shōki in Japan is a scroll at the Nara National Museum dated to the reign of Emperor Goshirakawa 後白河天皇 (1127-1192)."

This scroll painting is very similar to the painting by Utagawa KUNIYOSHI (1797 - 1861).

This painting is marked with two Red Seals on the lower right side, one being an artist seal and the other being a year seal.
Please see images for details

Size: 65 inches tall 22 inches wide paper. The wood bottom bar is an extra 1 1/2 inches on both sides
Condition: The scroll paper has some damage, one small hole on the top section, in the gold part of the scroll. The right top side of the scroll has damage and the some minor fold marks to the paper. Please see the images provided, I have photographed all the damage areas.

If you have any questions or if you need additional images, please feel free to contact me.

Note:
shipping cost is for US only, if you are an over seas buyers please email me your shipping address to get a shipping quote.

Detail photos Click to enlarge