⬅ Return to collection
Medical & Oddities : Modern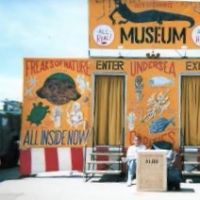 Sideshow Banner Painter Mark Frierson Museum Banners for Gettysburg Oddities Museum Hand Painted 2001 Full Set
Mark Frierson Carnival Banners from 2001.
This full set of Frierson banners were painted in 2001 for the Gettysburg Oddities Museum that closed it doors a few years ago.
The Museum was based on the old dime museums of the carnival, attractions of wonders. Like the museums of the past, many items were gaffs and wonders of the world.
For sale are the full banners in the 1st photo, except for the podium and the trailer.
Sorry, no gaffs available!
Mark Frierson was born in 1964 and his banner done in the traditional style of Snap Wyatt, his banner have gained in interest and in the world of carnival collectors, his first auction of his banner happened in 2016 and now his banners have been gathering in collections.


Note: The banners have been stored and some have been stored with baby powder to help protect them. The photos I took are from my clients stored collection, two banners have been stored with baby powder to protect them. The banners have been used and have been stored, slight folds on the heavy plastic coated banners. No tears or rips but some paint in areas have slightly faded.
The banners are being sold as a set.
If you have any questions or if you need more images please feel free to contact me.
NOTE:
The price listed is for US. If you are an overseas buyer please email me your shipping address before purchase to get a shipping quote.
Detail photos Click to enlarge