⬅ Return to collection
Historical Memorabilia : 1900-1940s
This item has been sold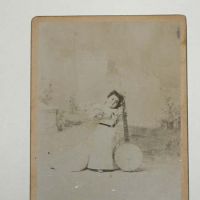 Sideshow Chiquita The Living Doll Cabinet Card circa 1900 Photography by Obermuller and Son
A very nice signed cabinet card of Chiquita (real name Alizia Espiridona born 1869), also called The Living Doll and Little One. The back is singed Chiquita in pencil but I cannot authenticate the signature. There is some similarity to other Chiquita photos with signatures but I cannot give a 100% guarantee. The merits of this cabinet card is the photographer, Obermuller and Son and the fact that it is a photograph of one the early Famous Midget sideshow performers of her time.
Obermuller and Son was a New York Photographer noted for many portraits of sideshow performers in the late 1800 to early 1900's. This photo was taken circa 1900 and is a great document of Chiquita at the height of her fame. Billed as The Little One or also as The Living Doll she was reported to be 28 inches tall and said to have lavish taste with the latest fashions of her time.
The Cabinet Card is in very fine shape, with slight fading and a small water spot in the center of the photograph.
The photo is approx. 4 1/2" x 6 1/2".
Please email with questions or if you need more photographs.

Detail photos Click to enlarge