⬅ Return to collection
Antique Accessories : Historical Memorabilia : 1800s
This item has been sold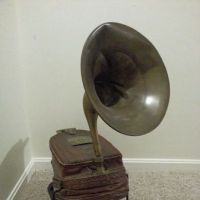 Siebe Gorman Foot Operated Air Pump wtih Brass Horn
Siebe Gorman Foot Operated Air Pump wtih Brass Horn

Siebe Gorman made diving equipment and later adapted for firemen. The air horn was used for a fire alarms.

"The history of the development of the Fire Horn/Siren began in the middle 1800s when it was developed as a double billowed pumb to furnish air to a firemen's smoke mask. The foot pedal was depressed by an operator to pump air into a second spring tensioned bellows to keep a constant flow of air to the helmet. When a Firefighter went into a confined area he was attached to a lifeline and used a code system based on pulls of the lifeline to communicate with the pump operator. These commands are indicated on the large brass plate attached to the top of the pump."


Size: 30" H x 16" L x 9" W
Condition: VG, some wear to the leather pump/ bellow. As you can see from the images, the horn has been dented. The metal and wood are in VG condition

If you have any questions or need additional images, please feel free to email me.

NOTE:
Due to the weight, this will need special shipping or pick up. Please email me with your postal code to get a shipping quote.

Detail photos Click to enlarge