⬅ Return to collection
1st Edition : Out Of Print : Signed : Mid-century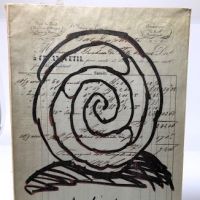 Signed and Numbered L'Avenir de la Propriété By Pierre Alechinsky Pencil Signed by Artist and Editor Yves Riviere 600/999
Title: L'Avenir de la Propriété
By Pierre Alechinsky

Limited edition, stamped numbered, 600 and signed by the artist and the publisher, Yves Riviere
This edition is out of 999
Unnumbered sheets. Illustrated with black and White engravings, and lithographs of the text in sanguine. Illustrated front and back cover with protective Glassine cover.
Signed by Pierre Alechinsky and Yves Riviere on the back page in pencil as issued. Last page lower right has book sellers sticker, Wittenborn Art Books 1018 Madison Ave. New
York 10021
Year: 1972
Text is in French
Bio from the MET website:
"Pierre Alechinsky was born in Brussels, where he received training in book illustration and typography at the École Nationale Supérieure d'Architecture et des Arts Décoratifs. He would go on to work in a range of media, from painting and prints to poetry and film. He was an original member of COBRA, an international group of Danish, Dutch, and Belgian artists active from 1948 through 1952. In camaraderie with other artists, including Karel Appel and Asger Jorn, Alechinsky held high expectations for a new postwar society and a new school of art. The members of COBRA believed in creative diversity; however, they shared interests in experimental methods, vivid color and free line, mythology, and children's art. In the mid-1950s, Alechinsky studied the art of calligraphy in Japan, adopting some of its techniques for his own work, as well as the materials of brush and ink on paper. In his paintings and prints, he developed a personal yet accessible pictorial vocabulary of forms suggesting animals and birds, volcanoes and waterfalls, plant life and human bodies. Gong is one such work, populated by biomorphic forms that flow into one another. It is drafted with gestural lines of ink and swaths of color using a monochromatic palette of various blues."
Size: 8 3/8 x 12 5/16
Condition: binding is tight with very minimal signs of use or wear. Includes the original Glasssine cover protector which is in very good condition, slight edge wear to glassine. Th binding is tight and the pages are crips and very clean. First page top right has pencil price. Please see the images provided for more details.
NOTE:
International orders, please email me your shipping address before purchase with your address to get a shipping quote. The shipping price is for US buyers only.
Detail photos Click to enlarge