⬅ Return to collection
1st Edition : Rare & Unique : Signed : 1900-1940s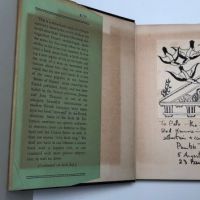 Signed by Prentiss Taylor and Original Illustration for Book Dated 1931 in Jacques Delamain 1st ed. hdbk Why Bird Sing Pub. 1931
Why Bird Sing by Jacques Delamain 1st ed. hdbk 1931 Signed by Prentiss Taylor and Original Illustration for Book Dated 1931
Why Birds Sing by Jacques Delamain is the first edition hardback with the dust jacket designed by the amazing Prentiss Taylor. Taylor's delicate yet bold drawings are a departure of is stone lithos of the same period. His lithos are a quick gestural figural drawings in what people would refer to as the WPA style, much like Rockwell Kent, Benton and other contemporaries but Taylor was more than that. His association with Langston Hughes and the artist and writers of the Harlem Renaissance gave him a wider and diverse art and literary style. The Art Deco style, motif and bridge to literature is so prevalent.
Jacques Delamain was "Jacques Delamain was a French naturalist who specialised in ornithology. He was, from 1929, on the editorial committee of Alauda, Revue internationale d'Ornithologie with its founder Paul Paris and Louis Lavauden, Noël Mayaud, Henri Heim de Balsac, Jacques de Chavigny, Henri Jouard and Paul Poty."
Prentiss Taylor signed and dedicated to "Pete" from 1931 with Original illustration from the book
Also included is a hand written page by Taylor, you can see the similarity in hand writing style. The list of books has some names of people, perhaps people he gave books too. One name in pencil states given to a person and returned. Please see the image of this page.
Also there are two newspaper pages from 1931, one New York Times and the other is New York Herald, both are reviews of the book "Why Birds Sing"
The Pen and Ink is original drawing for page 110 of the book. The illustration is glued into the first fly page with the inscription under the drawing.
The delicate Art Deco style drawing measures approx. 3 1/4 x 4 inches. The pencil lines can be seen under the ink.

Title: Why Birds Sing
By: Jacques Delamain
Published By: Coward McCann , New York
Year: 1931
Condition: The book binding is in almost perfect condition with minimal signs of use. The Dust Jacket has some minor soiling to the front, slight curl at the top edge. The spine edge is soiled and darkened. The back has minor chipping at the top edge and bottom edge. Please see the images included. The inside has staining from the acid of the news paper across the dust jacket and on the fly page where the image is tipped in. Does not effect the illustration but the staining is under the image. please see the images of this.
If you have any questions or if you need additional images, please feel free to contact me.
NOTE:
If you are International buyer, please email before purchase with your mailing address to get a shipping quote.
Detail photos Click to enlarge