⬅ Return to collection
Historical Memorabilia : 1900-1940s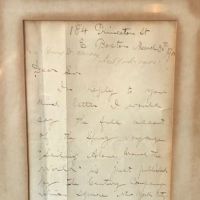 Signed Letter by Joshua Slocum 1900 Author of Sailing Alone Around The World Early Adventurer and Nautical History
Signed Letter by Joshua Slocum 1900 Author of Sailing Alone Around The World.
Joshua Slocum.." (February 20, 1844– on or shortly after November 14, 1909) was the first person to sail single-handedly around the world." His book, "Sailing Alone Around the World" in 1900 and in 1909 was reported lost at sea on his sloop, Spray. The book was hugely influential to up and coming adventurers and at the time of the book's release it was huge and critical acclaim.

"Captain Slocum was a highly experienced navigator and ship owner. He rebuilt and refitted the derelict sloop Spray in a seaside pasture at Fairhaven, Massachusetts, over 13 months between early 1893 and 1894.
Between 24 April 1895 and 27 June 1898, Slocum, aboard the Spray, crossed the Atlantic twice (to Gibraltar and back to South America), negotiated the Strait of Magellan, and crossed the Pacific. He also visited Australia and South Africa before crossing the Atlantic (for the third time) to return to Massachusetts after a journey of 46,000 miles."
This is a very rare piece of historical importance to adventures, nautical collectors and history collectors. A signed and dated letter from Josua Slocum and is dated 1900. The same year of the book was published and when he complete his epic and amazing journey.
The letter is address to, Henry D. Harvey, New York. The Letter Slocum sent was from 184 Princeton Street E. Boston March 30th 1900
I have supplied details of the letter so you can read the letter in it's entirety.

Condition: Very fine, with letter is in the frame that the estate had it in and appears to be from circa 1940's frame and mat. I have not taken it out of the frame. Light toning to the page from age but the ink has held up well and the ink has very faint fade. Please see the images for more details and if you have any questions, please feel free to email me.
If you have any questions or if you need additional images, please feel free to email me.

Note:
shipping cost is for US only, if you are an over seas buyers please email me your shipping address to get a shipping quote.
Detail photos Click to enlarge