⬅ Return to collection
Modern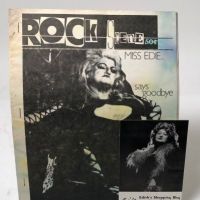 Signed Postcard by Edie Massey Edith's Shopping Bag w/ Rock Scene Zine for Marble Bar with Edie on Cover 1984
Signed Edie Massey Postcard for her vintage clothing shop, Edith's Shopping Bag along with the announcement of Edie leaving Baltimore in the magazine, Rock Scene.
The postcard is signed to a woman with "I love you" and singed Edie Massey. The back has her moves of claim to fame and is unused.
The zine is called Rock Scene is the magazine for the now defunct and one of the first punk venues in Baltimore called, The Marble Bar. A venue of note and infamy and was home to many bands 1st tour venue and many local and DC spot to play. The bar put out a zine promoting and reviewing shows and included some ads, the vintage clothes store called Scratch and Sniff with the sticker included and record count down for that month.
In this issue they reprinted the letter from Edie about her leaving the City and her going to the west coast. I knew many people in Baltimore that knew her well and it was a sad time to see such a sweet and caring person as well as institution leave the city.
Also of note is the Review of the coming of SLAYER. This band was unique and the pages is trying to introduce the masses to the what and who they were.
Note, the zine has had moister damage and caused some coloring leaking of the pages, the pages are fine but has leaked color through out. This is from humidity not water damage.
Condition: the zine has color staining from color leaking but is in great condition. The Postcard is almost perfect. The signature is very fine and has not faded. Please see the images for more details
If you have any questions or if you need additional images, please feel free to email me.

Note:
shipping cost is for US only, if you are an over seas buyers please email me your shipping address to get a shipping quote
Detail photos Click to enlarge