⬅ Return to collection
Rare & Unique : Signed : 1900-1940s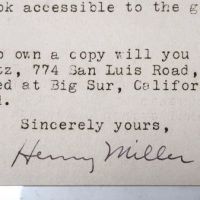 Signed Typed Letter by Henry Miller Dated 1947 Big Sur California for Into the Nightlife Book
Henry Miller, the man behind the banned book Tropic of Cancer, who gained notoriety in the US for his erotic and descriptive book of his time in Paris. The book was published in 1934 in Paris by the Obelisk Press. Due to the puritan and conservative laws of the then free speech laws, the book used what was then considered explicate and candid langue of sex.
After the book was banded and then later and many court cases later, the book was published in America in 1964 free of its banned status. This book along with Naked Lunch would give way for the new direction in literature would go and changed the laws of free speech in America.
In 1940, Miller returned to the US and would settle in Big Sur California, writing and publishing books while his first book was still banned in the US. "Miller lived in a small house on Partington Ridge from 1944 to 1947, along with other bohemian writers like Harry Partch, Emil White, and Jean Varda. While living there, he wrote "Into the Nightlife". He writes about his fellow artists who lived at Anderson Creek as the Anderson Creek Gang in Big Sur and the Oranges of Hieronymus Bosch."
In this letter, Miller is announcing his new book, "Into the Night Life". The letter is typed and copied, mimeographed and then ink signed. The letter is dated at the top 1947, the last year he lived in Partington Ridge.
The signature is a real ink signature, the ink is thicker at the bottom of the "Y", the lifting of the pen on the "H" and the "M" has heavy inking at the bottom. Please see the images of the signature provided for more details.

The Letter States the limited edition of the "Into the Night Life" and how 100 will be released in early April. Latter in the letter Miller states you can buy the book from Bezalel Schatz and give the address in Berkeley California.
A very nice piece of Henry Miller and this radical writer of the 20th century.
Condition: Very fine with folds from being mailed. The signature is in very fine condition and has not faded or been damaged. A very fine and near mint condition example of a Henry Miller letter. Please see the images for more details.
If you have any question or if you need additional images, please feel free to contact me.
NOTE:
The price listed is for US buyers only, if you are an overseas buyer please email me your mailing address before purchase to get a shipping quote.
Detail photos Click to enlarge