⬅ Return to collection
Culture : Historical Memorabilia : 1900-1940s : Mid-century
This item has been sold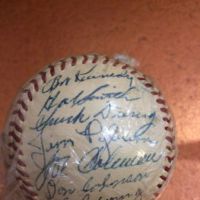 Signed American League Baseball 1955 Baltimore Orioles Rare Private Estate
24 signed baseball of the 1955 Baltimore Orioles
The ball is an original American League Ball with Stamped William Harridge, Presendent of the American League at the time….
"William Harridge (October 16, 1883 – April 9, 1971) was an American executive in professional baseball whose most significant role was as president of the American League (AL) from 1931 to 1959. He was elected to the Baseball Hall of Fame by the Veteran's Committee in 1972."

**This ball comes from an estate, not a auction. My client obtained this item through a mutual older friend's collection**

Please see images for details.


The names on the ball as best as I could decipher and crossed check with a on line Baseball Almanac

Names:
Billy Cox
Hoot Evers
Ray Moore
?
Cal Abrams
Erv Palica
Eddie Waitkus
Saul Rogovin
Al Vincent?
Hal Smith
Willy Miranda
Gene Woodling
Gil Coan
Lou Kretlow
Harry ?
Billy Cox
Bob Young
Don Johnson
Joe Coleman
Jim Pyburn
Chuck Diering
Hal Smith
Bob Kennedy

"The 1955 Baltimore Orioles played 154 games during the regular season, won 57 games, lost 97 games, and finished in seventh position. They played their home games at Memorial Stadium (Park Factors: 93/96) where 852,039 fans witnessed their 1955 Orioles finish the season with a .370 winning percentage."

Condition: Very Good with age to the ink. All signatures appear to be in the same ink. The ball is original.

If you have any questions or if you need additional images, please feel free to email me.


Detail photos Click to enlarge